Our Services
Boarding Services
Diggin' Inn offers 3 sizes of Diggin' Bunks for your pet's stay with us.
Single Pet
3×3 Bunk: $21.00 per night
4×4 Bunk: $23.00 per night
4×6 Bunk: $25.00 per night
Multiple Pet Sharing Same Bunk
Available for size 4×4 and larger.
Inquire about pricing.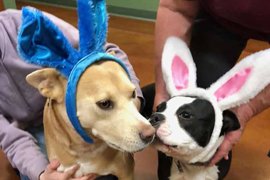 Daycare Services
Diggin' Inn Daycare is the perfect place for your pet to play all day so that they avoid all of the boredom while you're away! During their time in daycare they are able to socialize with other dog's and get the exercise they need.
We have two indoor play areas as well as two exterior play areas for even more fun! The exterior play areas are equipped with artificial grass for their comfortl We separate our guests by their size so that they can interact with peers of equal strength. A temperament test will be done on the first day of daycare to see if your dog is a good fit for daycare.
We offer the following options for our Daycare Services:
Without Boarding
Full Day: $20.00 per day
Half Day: $13.00 per day
With Boarding (Additional Cost)
Full Day: $17.00 per day
Half Day: $12.00 per day
Packages
Buy 10 Full Days of Daycare at $20.00 each and get 1 FREE or Buy 10 Half Days of Daycare at $13.00 each and get 1 FREE!
Bathing Services
We offer Baths and Nail Trims for our guests!
Small: $18.00
Medium: $21.00
Large: $25.00
Nail Trim: $16.00